Translated version: English Italiano
TL;DR: Images and sources of my Bartop Arcade.
Those who know me know that in these past months I've been finishing my Bartop: an Arcade Cabinet large enough to house the monitor and the control panel (without the coin box).
Main features are:
Wood cabinet;
17″ LCD Monitor;
Stereo speakers;
LED backlit Marquee;
Panel control for 2 players.
For the cabinet design I've used Sketchup: I had to learn it by myself taking into account all the issues concerning cutting and measuring the wood.
I'm neither a do-it-yourself expert nor a woodworker, so I've done a lot of feasibility study: my dad was a great help.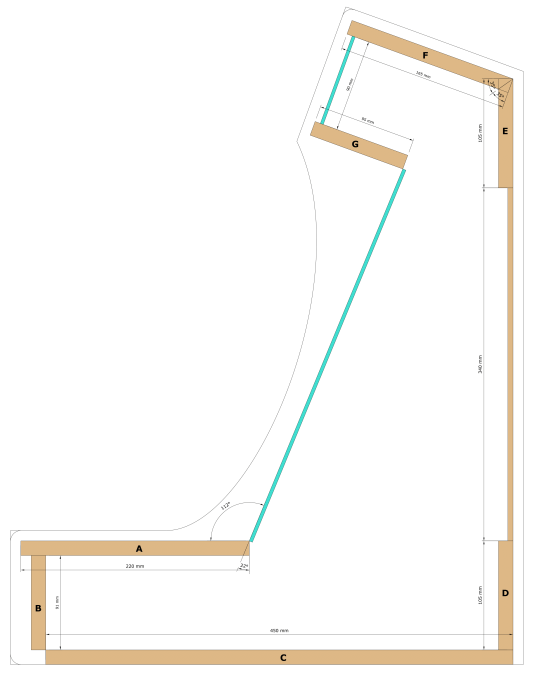 After the cabinet design, it's time for the control panel: it hosts 2 joystick and 12 buttons in the top part, leaving free space for 4 buttons (Player 1, Coin 1, Player 2 e Coin 2) in the bottom part.
To make it I've used Adobe Illustrator because it's a tool I'm familiar with and it permits to use millimeters as a measure unit.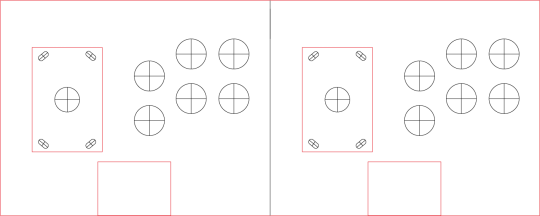 As you can see, the panel control (A and B) can be opened to allow maintenance work, same for the rear door (between D and E).
Now it's time of hardware parts, here's the shopping list:
I received a used 17″ LCD Monitor for free (I had to buy an HDMI-DVI for 8 €) and the wood (14mm Poplar plywood) cost me about 50 € (a 80cm x 80cm panel and a 150cm x 50cm panel).
Outsideprint is the site I've used for the glass decal: easy to use, fast and with great support.
It was obvious for me to use a Raspberry Pi but I can't say the same thing for the I-PAC 2: connecting the controls wires (joystick and buttons) directly to the GPIO of Raspberry goes against the modularity principle (a must for me).
The IPAC 2 "transforms" the control panel into a keyboard so I can extend the hardware (regarding the Raspberry and the controls) easily without headaches.
Now it's time to share some photos of the bartop (finished and during the construction):
IMPORTANT: If you are interested in making a Bartop, I created a Git repo with all the sources under the MIT license.
This post contains just the essentials info , otherwise it would have been a wall of text.
I thank Arcade Italia for showing me the right way, Retropie for the great software shared to the community and last but not least my dad.
Insert coin…