A community called "MozOpenHard Prject" of Mozilla Factory is developing a Firefox OS based developer board and WebAPIs for hardware (I2C and GPIO) control: Chirimen.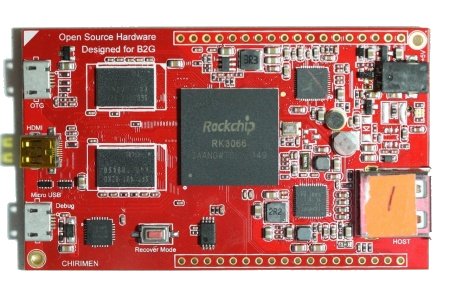 Currently you cannot purchase this board, it is still under development and the price is targeting less than USD50.
The hardware specs are:
SoC RK3066 (Dual-core ARM Cortex-A9 processor, ARMv7 architecture, clocked up to 1.6 GHz)
DDR3 1GB RAM
NAND Flash 1GB
1 MicroSD slot
Video micro HDMI female
Dimension 80 mm x 48 mm
USB microUSB x 1 (OTG) , USB x 1 , microUSB x 1 (UART debug)
WiFI (not on board. Use RTL8188CUS compatible USB WiFi adaptor)
GPIO >1 (configurable)
I2C 2
UART 2
SPI 2
Audio analog stereo IN x 1 / OUT x 1
PWM 1
Analog IN x 1
Mozilla will share openly the firmware code, board design, manufacturing process, API spec, and all necessary sources.
Stay tuned!